Give a gift that keeps on giving...
A Forum Film Club Membership costs just $20 for one year. You will receive a FREE ticket when you join, plus a FREE ticket for your birthday! As a member you are entitled to discounted tickets. In addition, regular movie goers will also be able to see every fifth film FREE with our Frequent Member Cards. It's incredible value! (Please note that all five movies must be viewed in a three-month period.)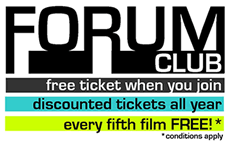 Club Memberships on sale all year - Valid for 12 months.
A Forum Club Membership is a fantastic gift idea! All you need to do is purchase a Forum Club Voucher, which the recipient can then bring to the Forum 6 Cinemas to exchange for a 12-month Membership.
* Conditions apply (see below)
Discounted Movie Tickets: Prices
Adults: Ticket price: $10.00 for all 2D sessions.
Seniors: Ticket price: $10.00 for all 2D sessions.
Kids: Ticket price: $10.00 for all 2D sessions.
There is a $3 Surcharge on all 3D movies. Save $1 by reusing your 3D glasses!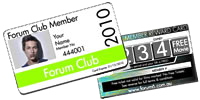 Membership Conditions
Membership rates, benefits and conditions may be subject to change without notice.
Membership cards and membership benefits are for the member only, and cannot be shared.
Membership benefits are valid only with the presentation of a valid membership card.
Lost membership cards will incur a $5 replacement fee.
Rewards cards are valid until and including the expiry date indicated on the card, or at the expiry of the membership, whichever comes first.
Rewards cards are not valid unless presented with a valid membership card.
Rewards card validation is for the member's ticket only and only with the purchase of a full price member's ticket. Rewards cards cannot be stamped with a movie money voucher or complimentary ticket.
No extensions will be granted on expired memberships, member rewards cards or complimentary tickets.
Memberships and complimentary tickets (including rewards cards) do not guarantee admission to a session, and seating is subject to availability.
Complimentary tickets are valid for three (3) months, sign-up tickets from date of sign-up, and birthday tickets from member's listed birthday.
A valid complimentary ticket can be exchanged for a single admission ticket for a single session.
A surcharge will apply for the use of complimentary tickets, including rewards cards, for 3D sessions.
Forum 6 Cinemas in its sole discretion may terminate or suspend any membership at any time without prior notice to the member.
Membership complimentary tickets are not redeemable for films listed as 'No Free Tickets' (as advertised throughout all advertising material, including, but not limited to, newspapers, website, Facebook(R) and in the cinema complex) and special events. Membership discounts also do not apply to special events.
Members are still entitled to a rewards card validation if they are viewing a session listed as a 'Special Event'.
Special events include, but are not limited to, double features, movie marathons, silver screen and opera sessions, or any other session advertised as 'Special Event'.
Memberships are only valid at Forum 6 Cinemas, Wagga Wagga.